I spent a good part of the day yesterday browsing pintrest for ideas for dinner. I had taken out a pound of ground beef and wanted to make something a little different than the normal things we ALWAYS have. I didn't find any ONE thing I loved, so I combined a few things.
Ingredients:
1 bag Tostitos Scoops
1 lb ground beef
1 1/2 cup tomato paste
1 can refried beans (or make your own, I'm just lazy)
1 bag Mexican Style cheese
First, I browned the meat, seasoned it with garlic and onion powder, pepper, and a tiny bit of salt. Drain the meat and return to the pan. Add tomato paste, let simmer. Preheat the over for 350, Line chips on a cook sheet. Take the back of the spoon and drag into refried beans, smear on one side of chip, fill the rest of the chip with ground beef, and top with cheese. Bake for 10 minutes.
We had a side of sour cream we topped ours with, but you could use anything. Tomatos, olives, lettuce... anything!
The kids GOBBLED these up. My daughter, who eats like a bird, had about 15 of them. My son, who eats like a horse, probably had an entire cookie sheet to himself (I made 2). These are tasty, easy, and fast. Perfect for an on the go mom like me :)
Filled with meat and beans
Fresh out of the oven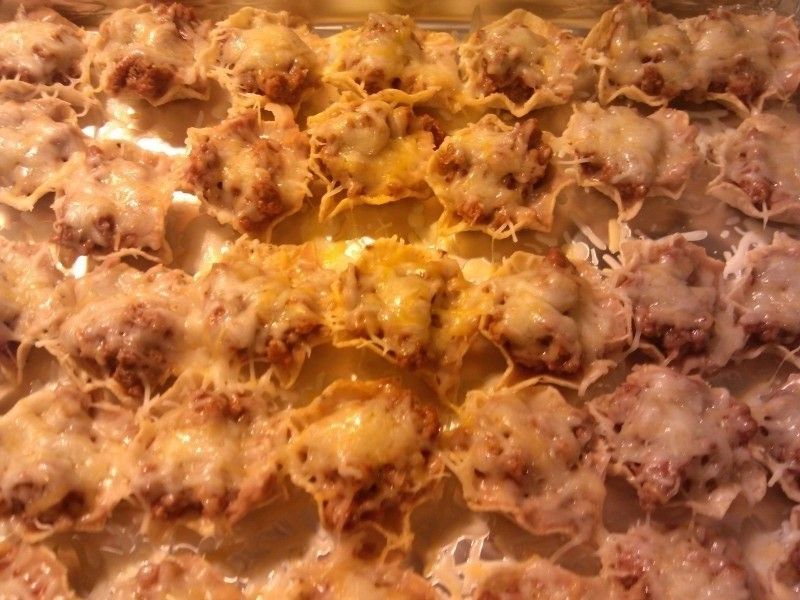 Yummy!